Counselling psychologists in the 21st century must address a number of issues regarding the provision of well-being. While seeking psychological help is considered as a stigma by some, it is the duty and responsibility of the professionals and organizations to sensitize and de stigmatize about seeking professional psychological help either through face-to-face or through phone helpline.
Helpline counselling comes in handy where location and travel time can be compensated. It has found to be a great resource in enhancing strengths and values of an individual. It can help employees to acclimatize to transformational leadership. It can assist in building resilience to cope with organizational changes. It can empower employees about maintaining self-esteem which is essential to manage stress and anxiety. Immediate availability of trained mental health professionals during designated hours also serves the need.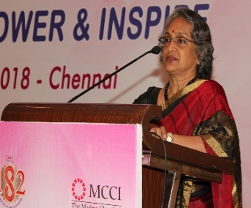 Mrs. Gowri Krishnamoorthy, M.Sc (Psychology)
Ms. Gowri is a psychological counsellor and has over 15 years of experience working with children, families and academic institutions. She has been offering training programs and facilitating face to face counselling at the corporate level.