Dr. Saras Bhaskar
Dr. Saras Bhaskar is a Counseling Psychologist, skilled in identifying psychopathology, and offers necessary therapeutic guidance. As a private practitioner, she extends individual, family, pre-marriage, marriage and family counselling. Her niche area is Health Psychology focusing on Bio psychosocial framework emphasizing psychological wellbeing of people. She incorporates traditional and contemporary therapeutic techniques in her counseling interventions.
As a Corporate Consultant, her experience in design and implementation of proactive solution-based curriculums is multi-fold. As an objective problem solver, she is an expert in identifying organizational needs, in order to design and develop customized solution-based programs. With her specialization in HR Management, she can empower all levels of personnel throughout the organization. Ms. Bhaskar periodically facilitates need-based workshops and training programs for MNCs, private companies, NGOs, and Academic institutions.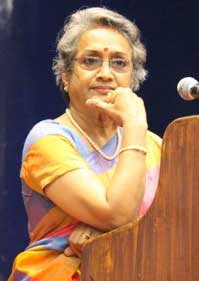 The passion to promote psychological wellbeing of all human beings empowered her to design therapeutic interventions for pre marriage counselling, marriage and family counselling. She is specialized in relationship management counseling. For over twenty-five years, she has been giving guidance and counseling on the topic of 'preparedness for marriage' to engaged couples. Additionally, she offers training to the families as well, to make this transition phase, a smooth one.
Her interest and passion in the field of counselling have empowered her to develop intervention modules for "adoption counseling. Currently she has collaborated with an organization in Bangalore and designed 'adoption competency training' which is soon to be launched.
Ms. Bhaskar is a resource person for the Department of Social Welfare in Tamil Nadu and facilitates training for case workers on need basis. For the last 15 years, she has been offering preadoption (preparedness for parenthood), and post adoptive care for parents and children for a smooth assimilation and transition.
Her doctoral research is examining the 'Effect of infertility counselling intervention on couples with primary infertility' seeking IVF treatment. She has diligently incorporated two therapeutic techniques and designed a 12-week module of intervention. The study found that infertility counselling intervention do reduce stress and depression during treatment.
She is also consultant on call with the Cardiac Wellness Institute in Chennai. She was a faculty at the 1st national conference on cardiopulmonary Rehabilitation in 2017. Currently working on a standard model of psychological intervention on emotional regulation of cardiac patients.
In a collaborative project with Gopalan and Associates, a law firm, scripted and played a role in the documentary film on psychological implications of "Sexual harassment at workplace".
She appears on local television channels, and her interviews and expert comments appear frequently in The Times of India, The Deccan Chronicle, The New Indian Express, The Hindu and other Tamil newspapers and magazines.
Her vision to empower counseling professionals in the field of psychology gave birth to Chennai Counselors' Foundation. Started in 2004, CCF provides a platform for counseling professionals to share knowledge, expertise, provide cross-referrals and train for growth and advancement.
She consults by appointment at
Academic Qualifications
PhD in Counseling Psychology from the University of Madras, Chennai India.
Master of Art in Human Services, Counseling & HRM, St. Edwards University, Austin Texas
Master of Arts in Applied Psychology, SIET College for Women, Chennai Tamil Nadu, India
Bachelor of Arts in Social Sciences, QMC College for Women, Chennai, Tamil Nadu, India
Journal article publications
Saraswathi Bhaskar, S. Thenmozhi and K.S. Kavitha Gautham, "Stress and depression during Assisted Reproductive Technology Treatment - Infertility Counselling", International Journal Reproductive Medicine & Gynecology. July 2018:4(2): 028-033.
Saraswathi Bhaskar, Vijayasarathy Ramanathan and Rene Hoksbergen, "Psychological wellbeing of Indian men and women undergoing fertility treatment for involuntary childlessness", Journal of Indian Health Psychology for March 2018
Saraswathi Bhaskar, "Childlessness, Parenthood and Psychological wellbeing",
Recent advances in Psychology, vol 4 (2), 2017
Saraswathi Bhaskar, Rene Hokhbergen, Anneloes van Baar, Arun Tipandjan and Jan ter Laak, "Life experiences and quality of life of involuntarily childless men in treatment and adoptive fathers", Journal of Reproductive and Infant Psychology, 2014.
Saraswathi Bhaskar, Rene Hoksbergen, Anneloes van Baar, Subasini Mothiram and Jan ter Laak, "Adoption in India - the Past, Present and the Future trends", Journal of Psychosocial Research, vol 7 No. 2 (July-December) 2012.
Membership Affiliations
Associate Life member, Indian Psychiatric Society.
Associate Life member of Indian Association of Applied Psychology.
Founder - Chennai Counselors' Foundation, Chennai India.
Past Member, Board of Studies (M.Sc Psy) - Justice Basheer Ahmed Syed College, Chennai.
Past Member, Board of Studies (M.Phil, M.Sc Edu). Manormaniam Sundaranar University, Thirunelveli.
Past member, Board of Studies (M.Phil, M.Sc., B.Sc.,) Women's Christina College, Chennai.